by Kyle Tomita on Mon, Apr 11th, 2011
| Fabrication, General
Alex Laventure expanded his capabilities with the addition of a Lazze Bead Roller.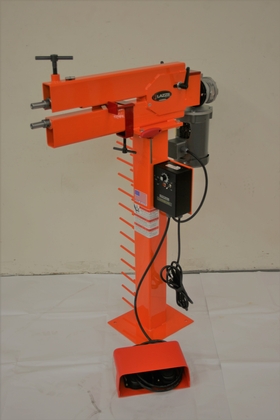 This bead roller allows him to put a bead in a sheet of steel or aluminum faster and more efficiently.  The uses are endless with this machines shaping options.  Alex has used it to recreate factory body lines and put a bead into a custom firewall for a drift car.
Above: A custom firewall with beads using the Lazze Bead Roller.
A bead is added to sheet metal to increase strength and style.  For the firewall above, the middle beads were applied to give added strength in the wide section of the metal.  The outer ring helps the firewall to keep its shape.  This was custom fabricated for a car with a tube frame rearend.
This is just one more tool Alex is adding that will allow to expand his fabrication capabilities even further.  Check back here to see what new things he creates from metal.